Men's Ministry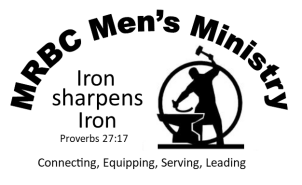 ---
If you're not already attending a
Sunday Morning Discipleship Class
check out our
Men's Bible Study
Sunday Morning @ 9:45 in the Conference Room
"Iron sharpens iron, so one man sharpens another." Proverbs 27:17 (NASB)
Matthew Road Baptist Church is dedicated to developing Kingdom-minded men to be servant leaders in the home, the church, and in their communities. The Men's Ministry is focused on developing men to make an eternal impact for this generation and those to come. We accomplish this mission through Bible study, evangelism training, leadership development, accountability, mentoring, retreats, mission trips and special events.
Our Focus Areas
Connecting
Establishing and building a personal relationship with God through Jesus Christ, and with other men who will be trusted friends in the journey of life.
Equipping
Growing in heart and head knowledge of God and His calling on our lives as discovered in the truth of His Word and in the inspiration of His Holy Spirit.
Serving
Using abilities and opportunities given to us by God to serve each other and to reach out to hurting people in the world with Jesus' love,

hope

and healing.
Leading
Living a bold faith that demonstrates a genuine love and willingness to be a leader for Jesus Christ and to the people who God places within our responsibility, including family, friends, neighbors and co-workers.
Men's Bible Studies
Please contact the Bible Study Leader regarding Zoom options.
Sunday Morning Bible Study
9:45 AM Conference Room
Contact Phil Mcglothin for more info at
Men's Monday Night-The Book of Isaiah
7:00 PM Food Provided
Contact Christopher Howard for more info at
Men's Monday Night Iron Sharpens Iron Study
The Gospel of John
6:00 PM Dinner
7:00 PM every other Monday
Contact William Sullenger for more info at


Men's Ministry Events
These are a few of our regular events throughout the year:
Men's Saturday Morning Breakfast
Time: Most Saturdays 7:00 AM -8:30 AM (excluding holidays and other special events)
Location: Good Day Cafe, 3758 S. Carrier Pkwy Ste 100, Grand Prairie, TX 75052
Description: Adult men's time of breakfast and Christian fellowship.
Cost: Depends on your appetite


Men's Spring and Fall Campouts
Time: Early Spring and Fall (we will advertise early)
Location: various locations
Description: Thursday through Saturday (come when you can, stay as long as you can)
Men over 18 - including camping, lot's of food, fishing, target shooting, Bible studies and fellowship around the campfire
Cost: $20 per person (includes three meals)
Contact Phil McGlothlin for more info


Spring and Fall Work Days

(check back soon for dates)
Each spring and fall the men at MRBC spend a Saturday serving God by cleaning and fixing

up the buildings and surrounding grounds that God has entrusted to us. Come work and

fellowship with us.
Breakfast @ 7:30 AM, work until noon Contact Phil McGlothlin for more info (

)
For more information about these and other Men's Ministry Events,
please contact
Phil McGlothlin

972.742.2757