2017 40 Days of Prayer, Day 1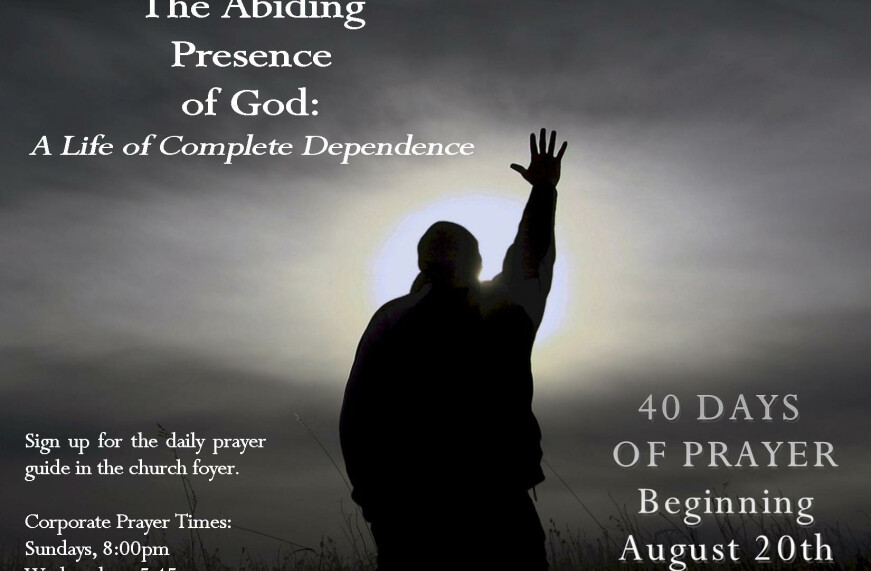 The Abiding Presence of God:
A Life of Complete Dependence
Day 1
"Therefore there is now no condemnation for those who are in Christ Jesus." Romans 8:1
The Weightiest "Therefore" in the Bible
For the next forty days we will pray together while contemplating the great work of God of our salvation. We will spend each day meditating on a single verse from Romans 8, working verse by verse throughout the forty days. I realize that by selecting Romans 8, this places us right in the middle of the greatest theological treatise ever written. The opening word of the chapter, "therefore" contains unimaginable presuppositions by Paul. He is assuming the reader of Romans chapter 8 has read and comprehended the first seven chapters. In this regard, throughout Romans 8 he links the work of God in our daily spiritual life to the incredible work of eternal salvation already accomplished in us. Paul spent those first seven chapters articulating these glorious truths. This is the weightiest "therefore" in the Bible. The implications of seven chapters of rich doctrine come to critical consummation in Romans 8. In the first three chapters, Paul presented humanity in a sea of sinful, caustic rebellion against God. The language of our depravity graphically details our natural bent against the things of God. Our depravity collides with His righteousness in God's justifiable anger against such sedition. God holds all people accountable for their sin. Romans 3:21 transitions the reader from the terrifying wrath of God to now contemplating a salvation so rich and profound as to stagger the imagination. We have been saved by God from God's wrath. Romans 3:21 through the end of Romans chapter 5 covers us in rich, theological language while sharing the wonderful message that God has transformed us from lawbreaking rebels into His adopted children. God performs this transformational act through the work of His own Son, Jesus Christ. This great work was predicated on divine love. "God demonstrates His own love for us in that while we were yet sinners, Christ died for us," Romans 5:8. How then shall we now live? How shall we now live knowing this great salvation? How then shall we live, now that God has saved us in His Son? In Romans 6 and 7, Paul called on all believers to live according to their newfound status. God has not only saved us from eternal hell, but He has provided eternal access to heaven. Beyond those future graces, God liberates us here and now. We are to live as our newfound spiritual status dictates. God sees us in Christ. He sees us as holy, justified, righteous, and free. We cannot return to a life dominated by sin. God unshackles us from that old way of life. He then binds us to Himself through our identity in His Son, Jesus Christ. We are called to a life of righteousness and purity. However, we cannot live this life of righteousness in our own strength. Our complete dependency continues beyond our initial salvation. We are saved by faith, a faith that is completely dependent upon God. But our dependence does not cease at the moment of salvation. Our complete dependence on God for our daily living has just begun.
From this theological foundation, Paul launched into thirty-nine of some of the most glorious statements ever written. God has eternally set us free from the power of sin and death. He has also provided the means for us to live free from the power of sin and death. How do we live free? There are thirty-nine verses in Romans chapter 8. We will spend these forty days praying with these biblical truths in mind, one verse at a time. And then, with a look back, on the last day we will then contemplate the entire chapter as a whole on the final day of the forty days of prayer.
Therefore, "there is now" A radical change has occurred. In this first verse of chapter 8, Paul captures the nature of the change God has brought about in our lives. Once we were under God's condemnation. Now we are under God's grace. At one time we were destined for an eternity separated from God. Now we have been brought into an eternal relationship with God. This dramatic shift occurs for all who call upon Jesus Christ as their Savior. The "before and after" images of those who are in Christ dwarf any diet company's promotional ads or any house remodel's transformation. If you are a believer in Jesus Christ, your life has been radically and eternally changed. Ironically, only God can see all the before and after effects of this change. Only God can see us in Christ. Before coming to Christ, God saw all of our sin, all of our blemishes, and all of our rebellious nature. Before coming to Christ, God held us in contempt of His sovereign reign and authority. Now God sees us in Christ. Now when He sees us, He sees the righteousness of His Son. That is a radical change indeed!
Condemnation We use this term in two distinct ways. First, condemnation functions as a legal term. A convicted criminal is legally condemned to serve a particular sentence for his crime. For instance, we might say, "the judge condemned the bank robbers to twenty years in prison." Second, condemnation functions as a relational term. A husband may say to his wife, "Please don't condemn me for forgetting our anniversary." When a relationship is damaged because of sin, condemnation describes the broken fellowship because one of the two parties views the other as a violator of their trust. When we hurt another by our betrayal, we can often sense his condemnation. In this case, condemnation describes a relationship that is broken because of a violation of trust. We break the trust of another, and at the same time we break the other person's heart.
Condemnation describes a legal action by a judge acting upon the law and condemnation describes a relationship breach by an individual whose trust has been broken through sin. Both of these ideas describe what happens in our relationship with God prior to salvation. Before coming to Christ we were justly condemned under the Law of God. We have all violated God's Law and must face the just punishment due for our crimes against God and His Law. However, there is a relationship breach as well. It is not that God sits as impersonal judge over humanity. This is no mere mechanical transaction on the part of God. This is intensely personal. He is heartbroken over our betrayal. Because of the depth of God's condemnation, this state of condemnation is insurmountable by humans. We are not strong enough, rich enough, or resourceful enough to remove this legal and relational condemnation. Only God can fulfill the requirements of His Law's just penalty, and only God is big enough to heal His broken heart. Both aspects of condemnation, the legal and the relational, are satisfied in the work of Jesus Christ. Christ pays the legal penalty for our sin. He bears our just punishment. Christ also satisfies the relationship breach with the Father by bearing the just wrath of our brokenhearted God. God the Father and God the Son determined long ago to do this great work of salvation. Before there were stars, before the earth rotated on its axis, before the moon orbited around the earth, God the Father and God the Son had our salvation on their mind. God made you even though He knew you would violate His trust. God created you even though He knew your actions would break His Law. God created us even though He knew our relationship and just standing before Him would cost His Son a violent and unjust death. God brought the world into being, knowing that He would confront and solve our just condemnation.
In Christ Jesus
It is all about Jesus. This is the Father's desired plan for the entire universe. God the Father wants to make much of His Son. Jesus Christ is the reason we were created and the reason we were saved. Since He saved us from our sins through His Son, we will now and eternally worship the Father through His Son. God is most glorified when His Son is exalted in our lives. This is God's plan for you. He removed our condemnation in His Son so that the Son would be the eternal focus of our praise. God is most glorified in our complete dependence in the work of His Son. Condemnation is now gone because we are now in Christ. In Christ, we stand before God as though we ourselves were righteous because He is righteous. In Christ, we stand before God as perfected in our relationship with God because Christ has a perfect relationship with His Father.
Prayer Focus
God, I worship You for Your glorious power. Through Your great might, You have saved me from my just condemnation. I confess that without You I am justly condemned under the Law. I thank You that in Your Son, I stand before You as though I am righteous. I thank You that in Jesus Christ I stand before You as beloved. Please Father come and work in my life today. I want to be used by You to bring glory to Your name. I want my relationship with You to be reflected in my relationships with others. Please do a work in me for Your name's sake. In Christ Jesus, my Righteousness, I pray. Amen.
From DL Moody's Secret Power
POWER – ITS SOURCE
"Without the soul, divinely quickened and inspired, the observances of the grandest ritualism are as worthless as the motions of a galvanized corpse." - Anon.
I quote this sentence, as it leads me at once to the subject under consideration. What is this quickening and inspiration? What is this power needed? From what place is its source? I reply: The Holy Spirit of God. I am a full believer in "The Apostles' Creed," and therefore "I believe in the Holy Spirit."
A writer has pointedly asked: "What are our souls without His grace? - as dead as the branch in which the sap does not circulate. What is the Church without Him? - as parched and barren as the fields without the dew and rain of heaven."
There has been much inquiry of late on the subject of the Holy Spirit. In this and other lands thousands of persons have been giving attention to the study of this grand theme. I hope it will lead us all to pray for the greater manifestation of His power upon the whole Church of God. How much we have dishonored Him in the past! How ignorant of His grace, and love and presence we have been? True, we have heard of Him and read of Him, but we have had little intelligent knowledge of His attributes, His offices and His relations to us. I fear He has not been to many professed Christians an actual existence, nor is He known to them as a personality of the Godhead.