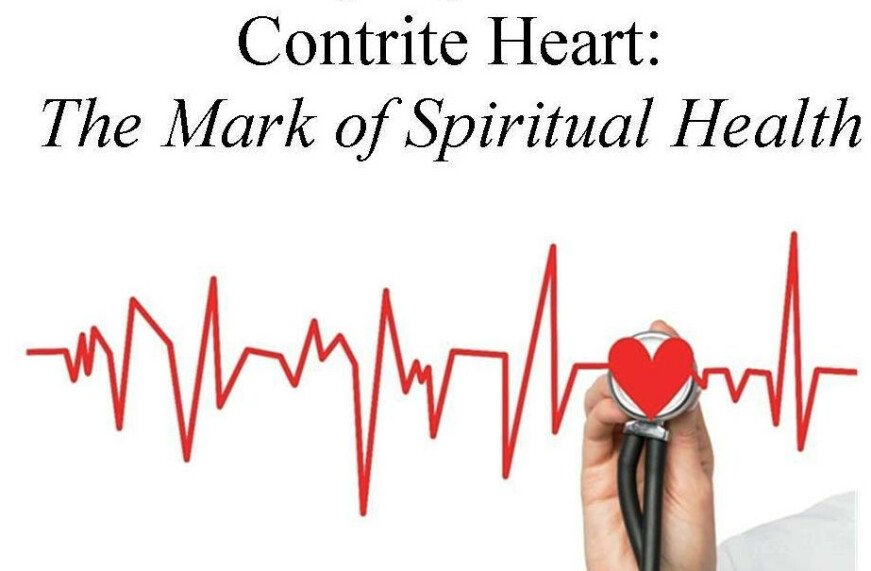 Day 33, Thursday, September 22
"How blessed is the man who does not walk in the counsel of the wicked, nor stand in the path of sinners, nor sit in the seat of scoffers! But his delight is in the law of the LORD, and in His law he meditates day and night. He will be like a tree firmly planted by streams of water, which yields its fruit in its season and its leaf does not wither; and in whatever he does, he prospers." Psalm 1:1-3
The Contrite Heart and the Bearing of Fruit
The contrite heart is marked by sorrow over sin. The contrite in heart have a humility toward others and compassion for those who are broken. Those with a contrite heart see God as glorious as He has revealed Himself through His creation. Those with a contrite heart also see God as glorious in His revelation to us through His Word. The contrite in heart submit to the Word of God. In contrast, those with a humble and contrite heart do not submit themselves to people or ideas that run counter to the Word of God. The contrite-hearted delight in the Word of God, taking time each day to meditate on His truths. "In His law he meditates day and night." The continual meditation on God's Word produces a significant blessing on the contrite. Delighting in God's Word produces fruit. The contrite will be "like a tree firmly planted by streams of water, which yields its fruit in its season and its leaf does not wither; and in whatever he does, he prospers."
Alas, the phrase, "he prospers" may cause us a bit of confusion. For we know many faithful followers of Christ who have experienced tremendous trials. How do we reconcile the faithful servant and the trials they face? How does that person prosper? What sort of fruit comes to the contrite in the midst of trouble? Is "prospering" marked by personal wealth or pleasure or ease of life? The following is a helpful commentary from Spurgeon's Treasure of David on this verse. And whatsoever he does shall prosper. Blessed is the man who has such a promise as this. But we must not always estimate the fulfilment of a promise by our own eye sight. How often, my brethren, if we judge by feeble sense, may we come to the mournful conclusion of Jacob, "All these things are against me!" For though we know our interest in the promise, yet we are so tried and troubled, that sight sees the very reverse of what that promise foretells. But to the eye of faith this word is sure, and by it we perceive that our works have prospered, even when everything seems to go against us. It is not outward prosperity which the Christian most desires and values; it is soul prosperity which he longs for. Even here there is a true prospering, for it is often for the soul's health that we would be poor, bereaved, and persecuted. Our worst things are often our best things. As there is a curse wrapped up in the wicked man's mercies, so there is a blessing concealed in the righteous man's crosses, losses, and sorrows. The trials of the saint are the work of our Divine Gardener, by which he grows and brings forth abundant fruit.
Prayer Focus
Oh Lord, bear fruit in my life. Use Your Word to produce Your desired transformation in me. Remove the obstacles to the bearing of fruit. Remove the barriers to my faithfulness to Your Word. Reflect Your divine priorities within my heart and life. Help me to see trials as means to greater fruit. Use difficulties for good in my life. Protect me from the despair that comes with life's struggles. Give me a divine vision and understanding to see how You are at work. Protect me from the self-reliance and the pride that may come when my life seems to be trouble free. Give me a grateful heart for such gracious, daily provisions. In all of these things produce fruit in me for Your greater glory and for my greater joy. Amen.
From Bunyan's The Acceptable Sacrifice
And yet they do not fear God: alas! they do not believe these things. These things, to carnal men, are like Lot's preaching to his sons and daughters that were in Sodom. When he told them that God would destroy that place, he seemed to them as one that mocked; and his words to them were as idle words (Gen 19:14). Fearless men are not won by words; blows and wounds, are the things that must bring them under fear. How many struggling fits had Israel with God in the wilderness? How many times did they declare that there they feared him not? And observe, they were seldom, if ever, brought to fear and dread his glorious name, unless he beset them with death and the grave. Nothing, nothing but a severe hand, will make the fearless fear. Hence, to speak after the manner of man, God is pressed it to go this way with sinners when he would save their souls; even bring them, and lay them at the mouth, and within sight of hell and everlasting damnation: and there also charge them with sin and guilt, to the breaking of their hearts, before they will fear his name.