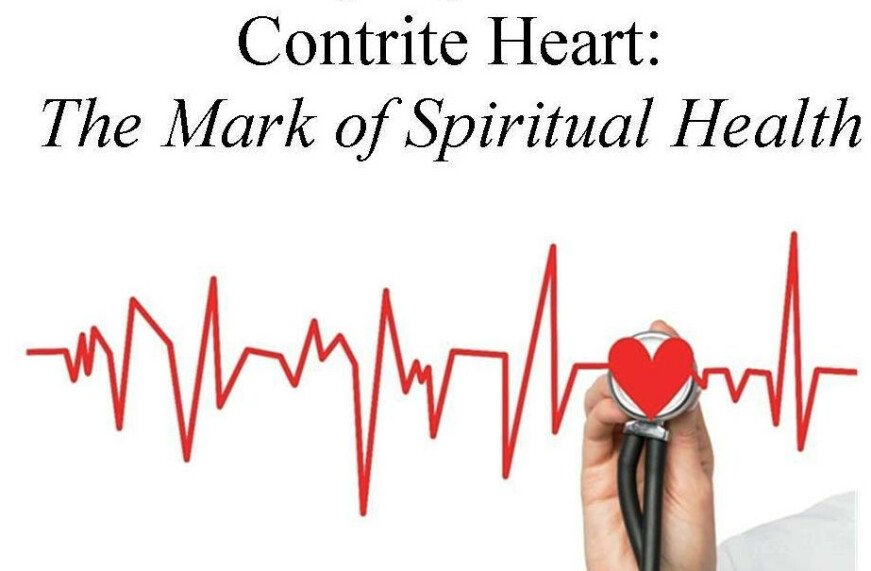 Day 28, Saturday, September 17
Restore to me the joy of Your salvation and sustain me with a willing spirit. Then I will teach transgressors Your ways, and sinners will be converted to You. Psalm 51:12-13
The Contrite Heart and the Care for Others
David's lack of care for others created his traumatic sin of adultery and murder. His complete disregard for Uriah and Bathsheba and their families, along with the rest of the nation, led to one of the greatest moral failings in the history of God's people. In this psalm, a psalm that was dedicated to confession and repentance, David asked God to restore him. Then, once restored, David requested God to use him. He asked God to restore him so that he could focus his energies on the care of others. Maybe David learned some valuable lessons in the midst of his rebellion against God? Maybe David now sought to be an instrument of good in the lives of others? He had done so much evil and had caused so much pain. His sin had ripple effects for a whole generation of his family and for Israel. Now humbled through the gracious hand of God, David longed for a restored, joyful spiritual life. Out of this horrific experience, he now sought for God's work in the lives of others. "Then I will teach transgressors Your ways, and sinners will be converted to You." His self-centered focused created this crisis. Now he longed for an others-centered life as evidence of his restoration by God.
A humble, contrite heart is a heart that cares for others. A humble, contrite heart longs for the good in others. Those who are truly contrite seek the good in others by serving, helping, encouraging, and supporting. The prayer of the contrite is, "Use me, oh God, to help others." David's request came from the heart of a repentant believer. Having our sins forgiven, now that we have experienced so much undeserved good in our lives from God, we now seek good in the lives of others. Remember the act of humble service by Christ on the very night of His betrayal. He was betrayed into the hands of the Jewish leaders followed by His subsequent execution at the hands of the Romans. The disciples seemed too proud and too busy to wash their own feet as they entered the home where they were celebrating the Jewish feast of Passover. They certainly were too proud to wash anyone else's feet. Jesus, the King of Kings and Lord of Lords, stepped into the upper room and found it filled with egos far too big for the significance of the events that would unfold in the coming hours. Shockingly they received no lecture from Jesus, just a display of humility. He said nothing to them. He just got up from the table, took a towel and basin, and started to serve by washing their dirty feet. Though a variety pointed truths were on display in this incredible moment, He left them with these words to clarify what they had just seen and experienced. "Do you know what I have done to you? You call Me Teacher and Lord; and you are right, for so I am. If I then, the Lord and the Teacher, washed your feet, you also ought to wash one another's feet. For I gave you an example that you also should do as I did to you." John 13:12-15 This is the life of the contrite-hearted. This is our life as believers in Christ. Having been freed from the bondage of our sin by His merciful work on the cross, He gave us an example to follow. May we imitate our Savior's life of service.
Prayer Focus
Lord, teach me to serve others. Out of an abundance of mercy You have forgiven me. You have also called me to serve others. Open my eyes to the needs around me. Give me the courage to help. Amen.
From Bunyan's The Acceptable Sacrifice
There are the sorts of people that tremble at the words of God, and that are afraid of doing anything that is contrary to them; but they are only such with whose souls and spirits the Word has had to do. For the rest, they are resolved to go on their course, let God say what he will. 'As for the word' of the Lord, said rebellious Israel to Jeremiah, 'that you have spoken to us in the name of the Lord, we will not listen to you. But we will certainly do whatsoever thing goes forth out of our own mouth' (Jer 44:16). But do you think that these people did ever feel the power and majesty of the Word of God to break their hearts? No; had that been so, they would have trembled at the words of God; they would have been afraid of the words of God. God may command some people what he will, they will do what they will. What do they care for God? What care do they have for his Word? Neither threats nor promises, neither punishments or favors will make them obedient to the Word of God; and all because they have not felt the power of it, their hearts have not been broken with it. (Acts 9:4-6, 16:29, 30). Trembling at the Word is caused by a belief of what is deserved, threatened, and of what will come, if not prevented by repentance; and therefore the heart melts, and breaks before the Lord.