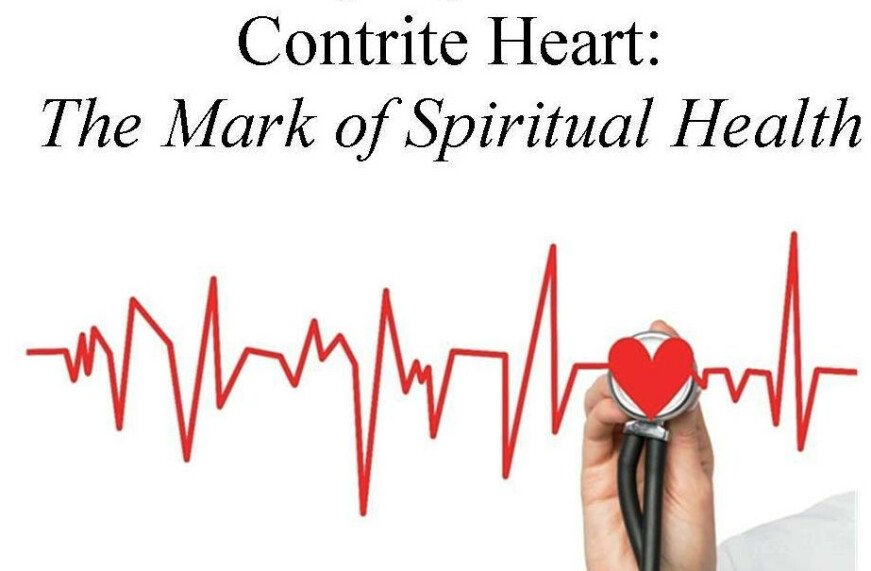 Day 25, Wednesday, September 14
Remember, O LORD, Your compassion and Your lovingkindnesses, for they have been from of old. Do not remember the sins of my youth or my transgressions;
According to Your lovingkindness remember me, for Your goodness' sake, O LORD. Good and upright is the LORD; Therefore, He instructs sinners in the way. He leads the humble in justice, and He teaches the humble His way. Psalm 25:6-9
The Contrite Heart and Humility
The connection between contrition and humility can be found in several texts of the Bible. We see it here in Psalm 25. The repentant psalmist appealed to the compassion and lovingkindness of God in hopes of God forgiving his sinful past. Then, in the verses that follow, his contrition produced humility, "He leads the humble in justice." We observe this connection between contrition and humility in James 4. Cleanse your hands, you sinners; and purify your hearts, you double-minded. Be miserable and mourn and weep; let your laughter be turned into mourning and your joy to gloom. Humble yourselves in the presence of the Lord, and He will exalt you. James 4:8-10 "Mourn and weep…humble yourselves in the presence of the Lord." Repentance and humility walk hand in hand. This relationship between a contrite heart and humility is prominently on display in Jesus' teaching in the Sermon on the Mount. The Sermon on the Mount opens with these three blessings. "Blessed are the poor in spirit…blessed are those who mourn…blessed are the humble (some translations say gentle or meek, but very similar meaning as humble)…" In the beatitudes, Jesus opened the series of nine "blessings" with a blessing for contrition, "blessed are the poor in spirit…blessed are those who mourn…" The word "Blessed" spoke of God's abiding joy in the hearts of those who acknowledge their spiritual poverty and who have their hearts broken by their spiritual poverty. The very next blessing provides the character that should be produced when our hearts are broken over our sin. This third blessing in the beatitudes is a blessing over those who are humble. Those with contrite heart are humble before God. Those with contrite heart are also humble before other people. In Psalm 25:8-9 we see this same relationship. "He instructs sinners in the way. He leads the humble in justice, and He teaches the humble His way." The truly repentant have come to terms with the severity of their sin. The process of repentance, of being broken over our sin and seeking the forgiving restoration of God, must produce humility.
The word "humility" is a broad term. It marks the general attitude of the brokenhearted towards God and others. When we are humble there are certain specific attributes that should be evident in our lives and the heart is the primary barometer of this humility. What we think and feel about others matters. For instance, humility produces patience. We should be patient when dealing with the weaknesses of others. Those of contrite heart realize that the grace of God has brought them out from under God's judgment and into God's grace. Empowered by the knowledge of God's grace, those with a contrite heart are able to show grace towards others. If our thoughts about others yield anger or resentment or bitterness, then we have not truly appreciated the profound grace God has provided for us. Remember the parable Jesus told Simon. Simon, a wealth, religious leader, invited Jesus to his home. When Jesus arrived, Simon failed to extend the customary greetings and courtesies to Christ. While they were dining, a woman with a bad reputation came into Simon's house. She humbled herself at the feet of Jesus and as she wept over His feet, she washed His feet with her hair. Simon responded with the thoughts and attitudes of an unrepentant person. He is harsh in his thoughts about the woman and harsh in his judgments of Jesus. What was Simon's issue? No contrition for sin. No contrition because he never viewed himself as sinful enough to justify such contrition. Furthering his horrific theology, he spent energy identifying the sin in others and castigating them as unworthy of mercy or forgiveness. Self-righteous thoughts along with condemnation of others collided in Simon's mind as this woman wept over the feet of Jesus. However, Jesus has a way of confronting us on heart matters. That is just what Jesus did to Simon in this moment. In order to clarify what was truly happening in the heart of Simon and in the heart of this woman, He shared this parable.
And Jesus answered him, "Simon, I have something to say to you." And he replied, "Say it, Teacher." 41 "A moneylender had two debtors: one owed five hundred denarii, and the other fifty. 42 When they were unable to repay, he graciously forgave them both. So which of them will love him more?" 43 Simon answered and said, "I suppose the one whom he forgave more." And He said to him, "You have judged correctly." 44 Turning toward the woman, He said to Simon, "Do you see this woman? I entered your house; you gave Me no water for My feet, but she has wet My feet with her tears and wiped them with her hair. 45 You gave Me no kiss; but she, since the time I came in, has not ceased to kiss My feet. 46 You did not anoint My head with oil, but she anointed My feet with perfume. 47 For this reason I say to you, her sins, which are many, have been forgiven, for she loved much; but he who is forgiven little, loves little." 48 Then He said to her, "Your sins have been forgiven." 49 Those who were reclining at the table with Him began to say to themselves, "Who is this man who even forgives sins?" 50 And He said to the woman, "Your faith has saved you; go in peace." Luke 7:40-50
"Your sins have been forgiven." Jesus' words must have hung in the room like think smoke on which the self-righteous practically choked. "Who is this person claiming they have the power to forgive?" "Even if he had the power to forgive sins, this woman cannot be forgiven by God or anyone else." However, the direct implication to Simon was "your sins, though they may be fewer than this woman, are not forgiven." "Simon, her sins are forgiven but yours remain because you think too highly of yourself and too lowly of others." If there is no contrition for our sins, then there is no forgiveness from God. However, when contrition has come into a person's life, there is humility. Humility before God. This woman displayed her humbility in her humble service toward God's Son, Jesus Christ. Humility toward others. This humility toward others begins with our thoughts toward them. Simon's lack of humility was reflected in his condemning thoughts toward the woman. Jesus exposed his thoughts for what they were. If we are humble then our thoughts will be dominated with compassion for sinners. This is the issue for our hearts today. Is the attitude of humility toward others the pervasive attitude of our hearts and minds? Has the full weight of the enormous grace of God fallen on us enough to see through gracious eyes the failings of others. Today, may we be able to say with the psalmist, "lead the humble in justice and teach the humble Your ways."
Prayer Focus
Oh Lord, give me a pure heart and a pure mind. May I see Your grace for what it truly is, amazing. As I live each day in Your grace, produce grace in me for others. Help me to walk in humility. As one forgiven, may my gratitude for Your grace change my attitude toward those around me who also are in need of Your grace. Amen. 
From Bunyan's The Acceptable Sacrifice
The broken-hearted man is a man that sees himself as spiritually poor. Therefore, as humble and contrite, so poor and contrite are put together in the Word. 'But to this man will I look, even to him that is poor, and of a contrite spirit' (Isa 66:1, 2). And here we still pursue our metaphor. A wounded man, a man with broken bones, concludes his condition to be very poor. Ask him how he does, and he answers, 'Truly, neighbors, in a very poor condition!' Also you have the spiritual poverty of such as have their hearts broken, and that have been of contrite spirits, much made mention of in the Word. And they go by two names to distinguish them from others. They are called poor, that is, God's poor; they are also called 'the poor in spirit' (Psa 72:2, 74:19; Matt 5:3). Now, the man that is poor in his own eyes, of him we now discourse, and the broken-hearted is such a one, is sensible of his needs. He knows he cannot help himself, and therefore is forced to be content to live by the charity of others. Thus it is in nature, thus it is in grace. The broken-hearted now knows his needs, and he knew it not till now. As he that has a broken bone, knew no want of a bone-setter till he knew his bone was broken. His broken bone makes him know it; his pain and anguish makes him know it; and thus it is in the spiritual realm. Now he sees to be poor is to want the sense of the favor of God; for his great pain is a sense of wrath. And the voice of joy would heal his broken bones (Psa 51:8).