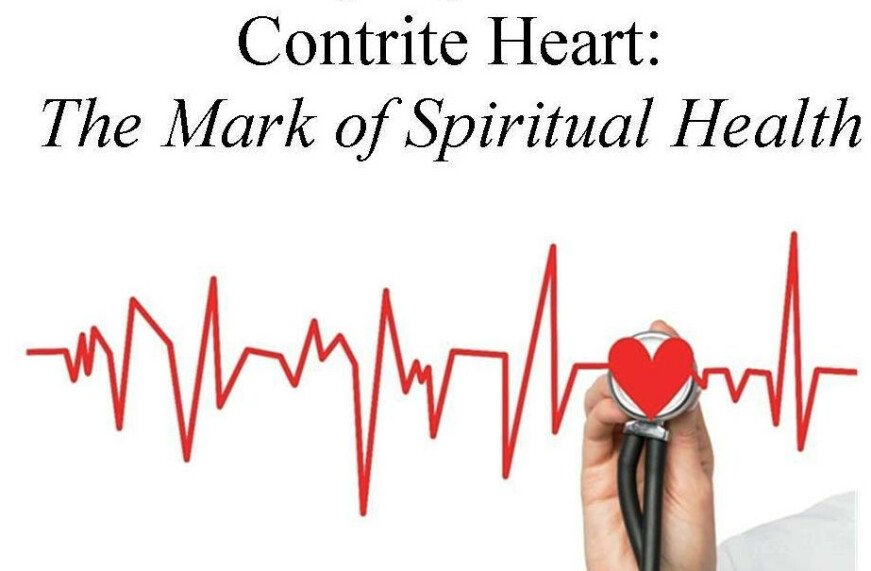 Day 5, Thursday, August 25
(Author's note: Don't panic. We will begin to progress through other verses by the end of this week. We will progress through other psalms by the end of the following week. There is a development of thought that I am trying to establish here at the beginning before we move to other themes. Hang in there.)
"For You do not delight in sacrifice, otherwise I would give it; You are not pleased with burnt offering. The sacrifices of God are a broken spirit; A broken and a contrite heart, O God, You will not despise." Psalm 51:16-17
A Broken and Contrite Heart and the Sacrifices of God
There are some sacrifices that God despises. If God, out of an abundance of His grace, gave us these tangible religious expressions to show our worship for Him, then we dare not abuse them. It is a gift with meaning. The gift of temple worship and the sacrificial system provided Israel tangible expressions of their love and gratitude to God. To use those gifts as an end to themselves is an incredible insult. Even worse, to use the tangible gifts of worship as a means to disguise the evil in our hearts is full blown rebellion against God. The tangible gifts of singing, praying, serving, baptism, and the Lord's Supper, provide the church with means of expressing gratitude, worship and loyalty. It is tyrannical to uses those gifts from God in order to hide the evil of our hearts from Him and from others. That is why David, in the midst of his repentance, didn't start with the outward, tangible expressions of worship. David began with the core issue of his relationship with God, his heart.
For You do not delight in sacrifice, otherwise I would give it; You are not pleased with burnt offering. Psalm 51:16
As Spurgeon wrote in his commentary on this verse, "When the heart mourns for sin, You, Oh God, are better pleased than when the bull bleeds beneath the axe. "A broken heart" is an expression implying deep sorrow; it carries in it the idea of all but killing anguish in that region which is so vital as to be the very source of life. So excellent is a spirit humbled and mourning for sin, that it is not only a sacrifice, but it has a plurality of excellences, and is preeminently God's sacrifices. A broken and a contrite heart, O God, You will not despise. A heart crushed is a fragrant aroma of a heart. We hold with contempt those who are contemptible in their own eyes, but the Lord sees not as we see. He despises what we esteem, and values that which we despise. Never yet has God spurned a lowly, weeping penitent, and never will he while God is love, and while Jesus is called the man who receives sinners. Bull and rams he does not desire, but contrite hearts he seeks after; yes, but one of them is better to him than all the varied offerings of the old Jewish sanctuary."
Prayer Focus
God, Give me a contrite and broken heart. I offer my heart to You, seeking to please You. I see in Your word that you never despise such an offering. In my brokenness draw me close to You. Amen.
From Bunyan's The Acceptable Sacrifice
Second. It is of greater esteem with God than is either heaven or earth; and that is more than to be set before external duties. 'Thus says the Lord, heaven is my throne, and the earth is my footstool, where is the house that you build for me? And where is the place of my rest? For all those things have my hands made, and all those things have been, says the Lord: but to this man will I look, even to him that is poor and of a contrite spirit, and trembles at my word' (Isa 66:1, 2). Note, God says, he has made all these things, but he does not say, that he will look to them, that is, take delight in them; no, there is that wanting in all that he has made that should take up and delight his heart. But now, let a broken-hearted sinner come before him; yes, he ranges the world throughout to find out such an one, and having found him, 'To this man, ' He says that such a man to him is of more value than is either heaven or earth; 'They, ' says He, 'shall grow old'; 'they shall perish' and vanish away; but this man he continues: he, as is presented to us in another place, under another character, 'he shall abide for ever' (Heb 1:10-12; 1 John 2:17).