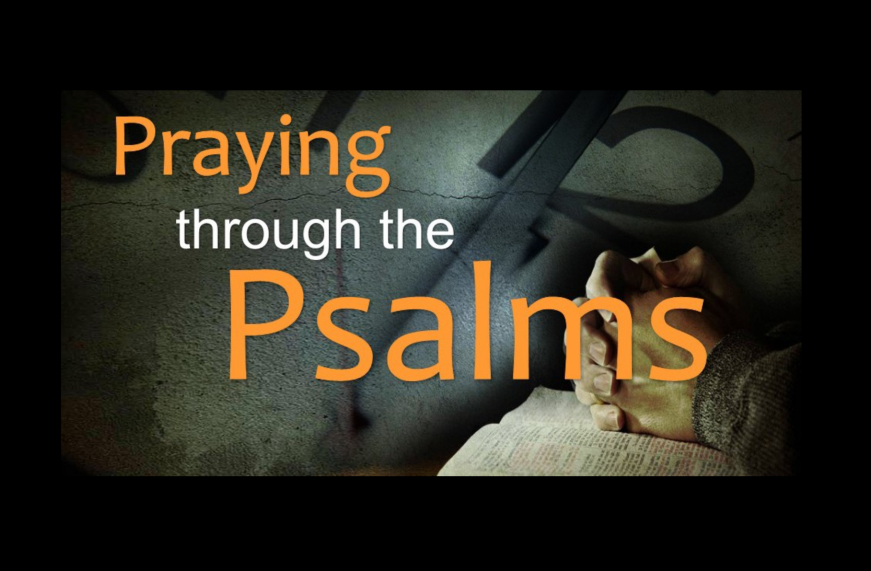 Psalm 42:7-8 Deep calls to deep at the roar of your waterfalls; all your breakers and your waves have gone over me. By day the LORD commands his steadfast love, and at night his song is with me, a prayer to the God of my life.
The most comforting aspect of God is his sovereignty. He is in absolute control. He's absolutely independent and does whatever he pleases. I know despite all the different trials I may run into God has ordained them and what he ordains is perfect. To have a God not in control is to have no God at all. It would be no relief at all to know that God does not rule the wind and waves. The Psalmist understands that his oppression, depression, loneliness, and crushed spirit are all part of the waves of God.
Spurgeon once said, "It would be a very sharp and trying experience for me to think that I have an affliction which God never sent me, that the bitter cup was never filled by his hand, that my trials were never measured out by him, nor sent to me by his arrangement of their weight and quantity" It's ok to feel bitter sorrow in the Christian life. Men like Jonathan Edwards, Charles Spurgeon, and Martin Luther were greatly afflicted at times.
There are times when the Lord will strip us from the addicting power of the present moment and all of our self reliant resources, so that we may be fully reliant on him. We can be feeble minded and easily forget of the glory that awaits us. It is times like that the Lord shows his steadfast love for his believers and begins to initiate an emotional bond between him and us. We need ice cold splashes of rain some days to awaken us in our spiritual slumber. How sweet and refreshing it is to find Christ through your hell and the reality of heaven in your heart.
God's steadfast love is a central theme in the Old Testament. The Hebrew word is "hesed." It speaks of Gods loyal love to the believer. It's why we can trust in the promise of Romans 8:28 without any doubt. The Lord's "hesed" will never let us go. In the midst of life's trials and tragedies, we may cry out to our gracious Lord with boldness and confidence that nothing can separate us from the loyal love that saved us, is sanctifying us in the present, and will faithfully bring us to our eternal home.
There's a saying I once heard that I repeat to my family often: "We stick with the stuck." No matter what terrible circumstance we might go through whatever it is we will go through, it will be together. Family is binding and family is a commitment. It is because of the loyal love Christ had for the Father and his Church that he was able to take upon himself the worst of us, so we may have the best of him. It is why at night you can lay your head on your pillow in peace despite the downpour of emotion that might overwhelm you singing:
When peace like a river, attendeth my way,
When sorrows like sea billows roll
Whatever my lot, thou hast taught me to say
It is well, it is well, with my soul.
Prayer Focus:
Lord, may the downpour of your grace exceed the waves of my trials. Help me to understand that nothing can separate me from your loyal love. May the pain of this life lead to a healthy obsession of the next. Speak to me, teach me, counsel me through your word. May I consider the sufferings of this world to be nothing compared to the glory that awaits.
Sermon by John Wesley "The Important Question"
"What is a man profited, if he shall gain the whole world, and lose his own soul?" Matthew 16:26
But in what circumstance finds the spirit of a good man, at his entrance into eternity? See, the convoy attends, the ministering host of friends. They receive the new-born spirit, and conduct him safe into Abraham's presence, into the delights of Paradise; the garden of God, where the light of his countenance perpetually shines. It is but one of a thousand commendations of this antechamber of heaven that "there the wicked cease from troubling, there the weary are at rest." For there they have numberless sources of happiness which they could not have upon earth. There they meet with "the glorious dead of ancient days." They converse with Adam, first of men; with Noah, first of the new world; with Abraham, the friend of God; with Moses and the Prophets; with the Apostles of the Lamb; with the saints of all ages; and, above all, they are with Christ. How different, alas, is the case with him who loses his own soul! The moment he steps into eternity, he meets with the devil and his angels. Sad convoy into the world of spirits! Sad earnest of what is to come! And either he is bound with chains of darkness, and reserved unto the judgment of the great day; or, at best, he wanders up and down, seeking rest, but finding none. Perhaps he may seek it (like the unclean spirit cast out of the man) in dry, dreary, desolate places; perhaps where nature all in ruins lies, and owns her sovereign, death! And little comfort can he find here, seeing everything contributes to increase, not remove, the fearful expectation of fiery indignation, which will devour the ungodly.