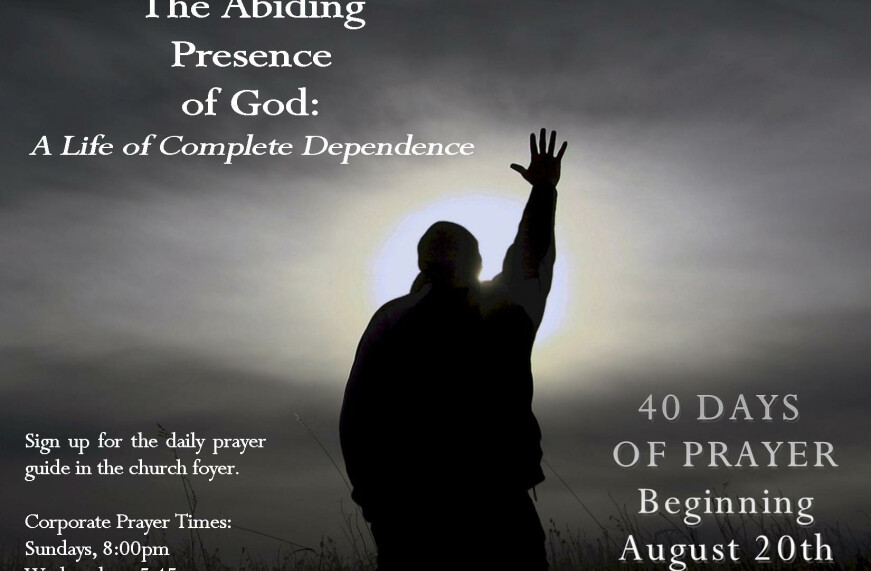 The Abiding Presence of God:
A Life of Complete Dependence
Day 36
"Just as it is written, 'FOR YOUR SAKE WE ARE BEING PUT TO DEATH ALL DAY LONG; WE WERE CONSIDERED AS SHEEP TO BE SLAUGHTERED.'" Romans 8:36
Persecution Does Not Nullify His Love
Notice the capitalization usage in this verse. The New American Standard Bible uses all capital letters to indicate an Old Testament quotation. The reality of suffering for those who follow God goes back a long ways. This quote comes from Psalm 44:22 where the psalmist, in a similar discussion about faithful Jews who refuse to bow to false idols, described the persecution they faced because of their faithfulness to God. God's faithful followers have always faced persecution because their relationship to Him. This was true of the first family as Cain murdered Abel because of Abel's righteous standing before God. Throughout the history of Israel, God's prophets experienced great persecution because of their messages, even when their messages were intended for the good of their hearers. The church has always faced this same persecution. From the Day of Pentecost until now, 2,000 years of human history has been marked by various times of persecution of Christians. The faithful put up no resistance to the assault, but are as sheep led to slaughter. However, even this ultimate expression of persecution, the death of a follower of Christ, cannot separate the follower from the love of Christ. When Paul wrote Romans chapter 8, not only had Paul personally experienced persecution, but the church in various places throughout the Roman Empire had experienced persecution. Consider I Thessalonians 1:6. "You became imitators of us and of the Lord, having received the word in much tribulation with the joy of the Holy Spirit." Consider Peter's words written to the church in Asia Minor, "Beloved, do not be surprised at the fiery ordeal among you, which comes upon you for your testing, as though some strange thing were happening to you; but to the degree that you share the sufferings of Christ, keep on rejoicing, so that also at the revelation of His glory you may rejoice with exultation," I Peter 4:12-13. In both of these passages, I Thessalonians 1 and I Peter 4, the suffering and persecution of the church connects to the suffering of Jesus Christ Himself. Paul and Peter wrote to churches who were undergoing persecution because of their faith in Christ and the suffering of the churches mimicked the actual suffering of Christ. Both Paul and Peter suffered martyrdom in Rome around AD 65. The persecution of the church only intensified in the generation of believers that followed the first Apostles' deaths. As the persecution of the church intensified, these texts, Romans 8, I Thessalonians 1, and I Peter 4, along with several other New Testament passages, encouraged the church during those difficult times. Today, many Christians around the world still face persecution and even death. However, the horror of that reality cannot stop the love of Christ, for in their loss, they receive the eternal reward from their Savior.
Prayer Focus
God, we pray to You on behalf of the persecuted church throughout the world. We are thankful for the many freedoms that You give us in this country. However, we realize that many believers in the world face dire circumstances because of their faith. Some this very day face death because of their association with You. Grant boldness to the church even in the face of persecution. Give each believer who is suffering at the hands of evil men a special measure of Your grace. Break our hearts for their plight. Lord, give us a boldness in the midst of a life of freedom. Help me not to squander my opportunities to share Your Gospel freely to others. In the name of Christ I pray, Amen.
From DL Moody's Secret Power
WHAT WINS
A great many parents have inquired of me how to win their children. They say they have talked with them, and sometimes they have scolded them and have lectured them, and signally failed. I think there is no way so sure to win our families and our neighbors, and those about whom we are anxious, to Christ, than just to adorn the doctrine of Jesus Christ in our lives, and grow in all these graces. If we have peace and joy and love and gentleness and goodness and temperance; not only being temperate in what we drink, but in what we eat, and temperate in our language, guarded in our expressions; if we just live in our homes as the Lord would have us, an even Christian life day by day, we shall have a quiet and silent power proceeding from us, that will constrain them to believe on the Lord Jesus Christ. But an uneven life, hot today and cold tomorrow, will only repel. Many are watching God's people. It is just the very worst thing that can happen to those whom we want to win to Christ, to see us, at any time, in a cold, backslidden state. This is not the normal condition of the Church; it is not God's intention; He would have us growing in all these graces, and the only true, happy, Christian life is to be growing, constantly growing in the love and favor of God, growing in all those delightful graces of the Spirit. Even the vilest, the most impure, acknowledge the power of goodness;
they recognize the fruit of the Spirit. It may condemn their lives and cause them to say bitter things at times, but down deep in their hearts they know that the man or woman who is living that kind of life, is superior to them. The world don't satisfy them, and if we can show the world that Jesus Christ does satisfy us in our present life, it will be more powerful than the eloquent words of professional reformers. A man may preach with the eloquence of an angel, but if he don't live what he preaches, and act out in his home and his business what he professes, his testimony goes for naught, and the people say it is all hypocrisy after all; it is all a sham.
Words are very empty, if there is nothing back of them. Your testimony is poor and worthless, if there is not a record back of that testimony consistent with what you profess. What we need is to pray to God to lift us up out of this low, cold, formal state that we have been living in, that we may live in the atmosphere of God continually, and that the Lord may lift upon us the light of his countenance, and that we may shine in this world, reflecting His grace and glory. The first of the graces spoken of in Galatians, and the last mentioned in Peter, is charity or love. We can not serve God, we can not work for God unless we have love. That is the key which unlocks the human heart. If I can prove to a man that I come to him out of pure love; if a mother shows by her actions that it is pure love that prompts her advising her boy to lead a different life, not a selfish love, but that it is for the glory of God, it won't be long before that mother's influence will be felt by that boy, and he will begin to think about this matter, because true love touches the heart quicker than anything else.