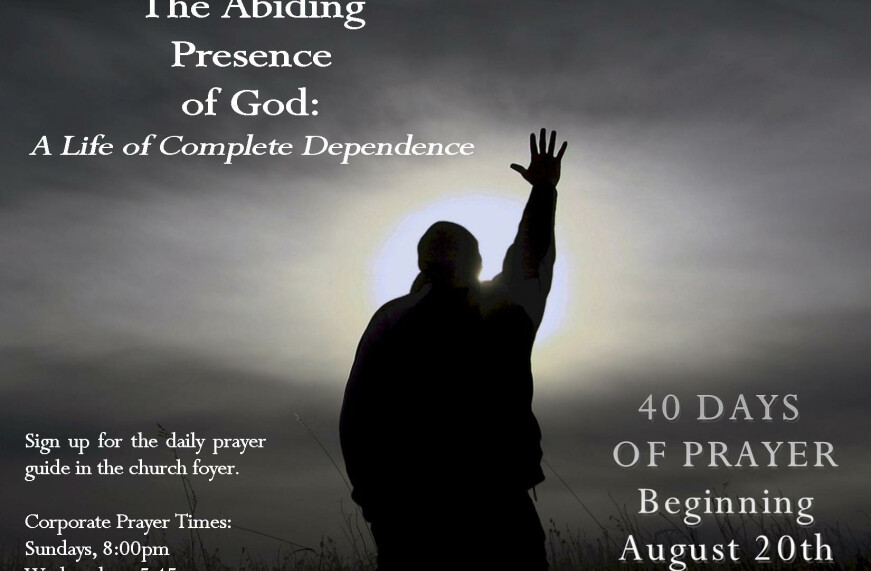 The Abiding Presence of God:
A Life of Complete Dependence
Day 40
For the last 39 days we have mediated on Romans 8. We have read such powerful words as: "There is now no condemnation for those who are in Christ Jesus…" and "the mind set on the Spirit is life and peace…" and "we have received a spirit of adoption in which we cry out 'Abba, Father!" and "God works all things together for good for those that love Him…" and "who can separate us from the love of God in Christ…" For this last day of our 40 days of prayer, reflect on these truths. Contemplate God's sovereign mercy to save us from sin and to make us His own children. Reflect on the presence of the Spirit in our lives. We are completely dependent on the Spirit of God. We must live with a constant awareness of our need for His work in our lives.
Consider FF Bruce's summary of this chapter from excerpts from his book, Romans in the Tyndale New Testament Commentaries. "So long as we endeavor to rely on our own resources, we fight a losing battle; when we avail ourselves of the resources of life and power that are ours 'in Christ Jesus,' we are more than conquerors. Christ dwells in us by His Spirit, and His Spirit infuses into us a new principle – the law of life – which is stronger than indwelling sin and sets us free from sin's tyranny. Under the old order, before the coming to the Spirit, it was impossible to do the will of God. …But those who belong to the new order of the Spirit do the will of God from the heart. … For not only does the Spirit maintain life and power in the spirit of believers here and now; His indwelling presence is a token that our body, still subject to mortality, will rise to new life as Christ's own body rose … The glory to come far outweighs the affliction of the present. The affliction is light and temporary when compared with the all-surpassing and everlasting glory. … When the day of glory dawns, the glory will be shown on a universal scale in the people of God, the glorified community of Christ. … This is the hope of the people of God, "Christ in you." … This is an essential element in our salvation; it enables us to accept the trials of the present, so that by patient endurance we may win our lives ... Indeed, God's grace co-operates in all things for His people's good, even in those things which at the time are so distressing and perplexing and hard to bear. … Since God is our strong salvation, what force can prevail against us? Since His love was supremely shown in the sacrifice of His own Son on our behalf, what good thing will He withhold from them? … Nothing can come between us and His love."
Prayer Focus
Thank You, God, for all that You have done in saving us through the life of Your Son. Thank You for giving us Your Spirit to lead us. God, You are so good. Your mercies are new every morning. I ask that You would do a work in my life. Make me more like Your Son every day. Do a work in my family and friends. Please, do a work in the ministries of Matthew Road Baptist Church by the power of Your Spirit. Help us as we minister to the communities in our area and as we seek to minister all over the world. By Your Spirit, help us as we partner with Your servants in difficult places. In all things be glorified as we exalt Your Son. Be glorified as You bring us ever increasing joy.
From DL Moody's Secret Power
PEACE DECLARED
When France and England were at war, a French vessel had gone off on a long voyage. When they came back, the crew were short of water, and being now near and English port, they wanted to get water. But they were afraid that they would be taken if they went into that port. Some people in the port saw them, saw their signal of distress, and sent word to them that they need not be afraid, that the war was over, and peace had been declared. But they couldn't make those sailors believe it, and they didn't dare to go into port, although they were out of water. At last they made up their minds that they had better go in and surrender up their cargo, and surrender up their lives, to their enemies than to perish at sea without water. When they got in, they found out that peace had been declared, and that what had been told them was true. So there are a great many people who doesn't believe the glad tiding that peace has been made. Jesus Christ made peace on the Cross. He satisfied the claims of the law; and this law which condemns you and me, which has been fulfilled by Jesus Christ. He has made peace, and now He wants us just to enjoy it, just to believe it. Nor is there a thing to hinder us from doing it, if we will. We can enter into that blessing now, and have perfect peace. The promise is: "You will keep him in perfect peace whose mind remains on You. Trust in the Lord forever, for in the Lord God is everlasting strength." Isaiah 26:3-4
Now, as long as our mind is stayed on our dear selves, we will never have peace. Some people think more of themselves than of all the rest of the world. It is self in the morning, self at noon, and self at night. It is self when they wake up, and self when they go to bed. They are all the time looking at themselves and thinking about themselves, instead of "looking unto Jesus." Faith is an outward look. Faith does not look within, it looks without. It is not what I think, nor what I feel, nor what I have done, but it is what Jesus Christ is and has done. So we should trust in Him who is our strength, and whose strength will never fail. After Christ rose from the grave, John tells us three times, He met His disciples and said to them, "Peace be unto you." There is peace for the conscience through His blood, and peace for the heart in His love.
SECRET OF JOY
Remember, then, that love is power, and peace is power. Now I will call attention to another fruit of the Spirit, and this too is power - the grace of joy. It is the privilege, I believe, of every Christian to walk in the light, as God is in the light, and to have that peace which will be flowing unceasingly as we keep busy about His work. And it is our privilege to be full of the joy of the Lord.
We read that when Philip went down to Samaria and preached, there was great joy in the city. Why? Because they believed the glad tidings. And that is the natural order, joy in believing. When we believe the glad tidings, there comes a joy into our souls. We are told that our Lord sent the seventy out, and that they went forth preaching salvation in the name of Jesus Christ, and the result was that there were a great many who were blessed. The seventy returned, it says, with great joy, and when they came back they said that the very devils were subject to them, through His name.
The Lord seemed to just correct them in this one thing when He said, "Notwithstanding in this rejoice not, that the spirits are subject to you; but rather rejoice, because your names are written in heaven." Luke 10:20 KJV
There is assurance for you. They had something to rejoice in now. God doesn't ask us to rejoice over nothing, but He gives us some ground for our joy. What would you think of man or woman who seemed very happy today and full of joy, and couldn't tell you what made them so? Would we not think such a person unreasonable? But there are a great many people who want to feel that they are Christians before they are Christians. They want the Christian's experience before they become Christians, and they want to have the joy of the Lord
before they receive Jesus Christ. But this is not the Gospel order. He brings joy when He comes, and we cannot have joy apart from Him. There is no joy away from Him, for He is the author of it, and we find our joy in Him.
JOY IS UNSELFISH
Now, there are different kinds of joy. There is the joy of one's own salvation. I thought, when I first tasted that, it was the most delicious joy I had ever known, and that I could never get beyond it. But I found, afterward, there was something more joyful than that. Namely, the joy of the salvation of others. Oh, the privilege, the blessed privilege, to be used of God to win a soul to Christ, and see a man or woman being led out of bondage by some act of ours toward them.
To think that God should condescend to allow us to be co-workers with Him. It is the highest honor we can wear. It surpasses the joy of our own salvation, this joy of seeing others saved. John said, He had no greater joy than to see His disciples walking in the truth (3 John 1:4). Every man who has been the means of leading souls to Christ understands what that means. Young disciples, walk in the truth and you will have joy all the while.
I think there is a difference between happiness and joy. Happiness is caused by things which happen around me, and circumstances will mar it. But joy flows right on through trouble, it flows on through the dark. Joy flows in the night as well as in the day, and through persecution and opposition. It is an unceasing fountain bubbling up in the heart; a secret spring which the world can't see and doesn't know anything about. But the Lord gives His people perpetual joy when they walk in obedience to Him.
This joy is fed by the Divine Word. Jeremiah says,
"Your words were found, and I ate them, And Your word was to me the joy and rejoicing of my heart; For I am called by Your name, O Lord God of hosts." Jeremiah 15:16 NKJV
He "ate" the words, and what was the result? He said they were the joy and rejoicing of his heart. Now people should look for joy in the Word, and not in the world. They should look for the joy which the Scriptures furnish, and then go work in the vineyard.
Because a joy that doesn't send me out to someone else, doesn't impel me to go and help the poor drunkard, doesn't prompt me to visit the widow and the fatherless, that doesn't cause me to go into the mission field or other Christian work, is not worth having, and is not from above. A joy that does not constrain me to go and work for the Master is purely sentiment and not real joy.